Event Controlling
Targeted analyses and comprehensive evaluations of equipment usage, service usage or advertising media. Ad-hoc comparisons of all measures in WWMcloud.
Event controlling in WWMcloud
With WWMcloud, you not only have an overview of processes, but also of your complete stored event equipment. At the push of a button, you get insights into your complete stock levels, which systems are currently being used at events and when they will be available again. This data enables you to plan further events in the future with confidence and effectiveness. For promotional items, you can also define critical order quantities. WWMcloud informs you automatically and in good time if the defined minimum stock level is fallen short of, or threatens to fall short of in the near future. This allows you to reorder your promotional items in good time, or to automatically trigger an order with your promotional products dealer via WWMcloud.

Would you like even more detailed insights into your events, your advertising media consumption or other important key figures? We will be happy to generate individual reports that allow you to analyze and evaluate your events even better according to your specifications and key figures.
Event Management Reports - Success in Facts and Figures
We want to make your events as transparent as possible. It is important to us to respond to your needs and support you in expressing the success of your event in figures. For your detailed success control we generate individual statistics, with the output of which you can prove and constantly optimize your event planning.

Would you like to know how often your counter has been ordered for events or whether a new acquisition is relevant for a system? We create usage statistics for your items and can tell you where and how you can save unnecessary costs in the future. We provide you with the data you need to make your event management effective and efficient at the same time.
Critical Items
On request, be informed which items have fallen below the stock level you have defined, so that you can reorder in good time. Our software not only records the current stock, but also takes into account orders placed for the future.
Article consumption
Stay informed about the consumption of your articles. Receive regular information by e-mail or call up the report at the touch of a button in WWMcloud. You have insight into the number of ordered items and can also see to whom they were delivered.
Stocks in real time
With WWMcloud, you always have the option of viewing your inventories online and having them displayed - in real time. With the right management, inventory control becomes child's play.
Quality assurance
In WWMcloud you can evaluate our performance and the quality of your reports at any time. We attach great importance to meeting your requirements and are constantly optimizing our WWMcloud software.
Your trade fair budget easily analyzed and evaluated
What did my event cost? And how do the expenses compare to the event goals achieved? Is the trade show appearance worth it or do we have to reschedule in the future to remain efficient?

Trade shows take up a large portion of a company's marketing budget. That is exactly why it is important to provide event management with measurable key figures. We provide you with manageable data on the events you have held, which you can use to evaluate and compare your event concepts. In this way, you can find out which concept was successful and optimize your event management in the long term. Your budget can thus be used more efficiently and is easier to plan.
Weigh inventory turnover and sales distribution
With a complete cost analysis, we make your trade fair budget plannable. So you always know which exhibit is successful. And the exhibit that has hardly been used lately, but is being stored and thus causing costs, can be identified and outsourced. Your sales distribution is based on facts that speak for themselves.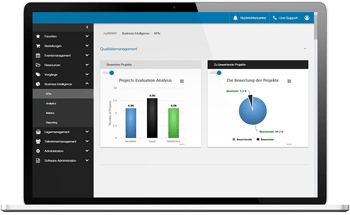 One bill for everything
If you wish, you can receive your invoice monthly, quarterly or annually. You receive a single invoice for our services. The costs of all services for your live marketing are thus clearly listed.
Full cost control
We provide you with a transparent cost overview for every event. With our flat-rate prices for our logistics services, we make it easy for you to calculate the budget for your events. And the total costs are also shown to you in WWMcloud.
Data is the raw material of live marketing digitization
We follow the holistic approach of event management with digital tools. As a digital pioneer in the event industry and know-how leader in event resource management, the CEO of WWM, Dr. Christian Coppeneur-Gülz, has published a guide to digital transformation in live marketing, with the success factors of speed, scalability and measurability, in Springer Gabler Verlag. With practical examples and recommendations for implementing web-based event management, it demonstrates how digitization is changing live communication.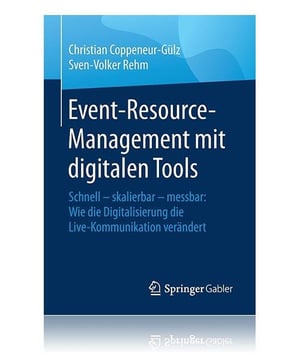 Have we aroused your interest?
Ask for our software without obligation and get to know it in a live demo.
Request software now
Performance data like Google Analytics
With Event-Metrics sensors we measure visitor traffic in an automated and GDPR-compliant way. In the WWM Event-Metrics App, you can see the live data from your booth. Key figures, as in online marketing, on your entire booth, separate areas such as counters, meeting or terminals, as well as individual exhibits.
Number of trade show visitors

Number of stand visitors

Dwell time at the POI

Number of returning visitors
We make your live communication measurable
Small Sensor and Big Data with comparable and easy-to-understand performance figures of your trade show appearances. Decisions for new event formats are easier to make based on data. You stay up-to-date, agile and can strategically adapt your live communication measures to changing market needs at any time.
Which exhibit attracts more visitors?

Is the new booth design accepted?

Which time of day and which day are the most popular?

Was the promotion at the booth successful?

Is the event still relevant?
Costs for visitor measurement with Event-Metrics
Data set creation
49 €
per event
Setup of the event and connection with the event metrics sensor
Event-Metrics Sensor
149 €
per event day
Rental of the Event-Metrics sensor per event day
Privacy-compliant visitor measurement explained
The Event-Metrics sensors measure visitor flows based on the smartphones of the trade fair visitors. No separate app needs to be installed. The sensors did not collect any personal data and transmit the measurement data securely and encrypted to the ExpoCloud Insights App. The sensor only requires power and can be flexibly positioned. It measures visitors within a maximum radius of about 50 meters. A second individual measurement radius is adapted to your booth or exhibit size.
Request our software solutions now