Customized exhibition stand for AGRODUR / HEUTE + COMP.
The project
The exhibition stand at Fakuma is used as a joint stand of the Agrodur Grosalski and Heute + Comp. group of companies. The booth in the middle of the stand is also used as a room divider. The trade fair appearance of the two companies differs on the joint stand by the colors and logos used, which correspond to the corporate design of the company. While the design of the left area presents the company Agrodur in yellow tones, the right area of the stand is kept in the green tone of Heute + Comp.

The booth has an open and modern design, with an emphasis on presenting the variety of products. The walls have a slate look surface and create a warm and inviting atmosphere.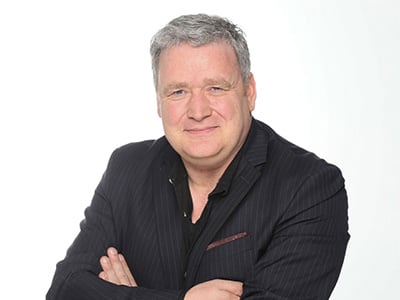 Dirk Jansen
Project Management & Design
+49 (0) 2472 9910 - 22 dirk.jansen@rocketexpo.com
Highlight of the booth
Illuminated showcases are used as eye-catchers at the trade fair stand. The smaller bases, which light up colorfully, give the impression at first glance that the showcases are floating. Visitors to the stand are greeted at a counter that is also illuminated.

Above the heads of the visitors are also illuminated cubes, which reinforces the long-distance effect of the booth.

Due to the many different illuminants, the stand beams invitingly at the visitors and invites them to linger.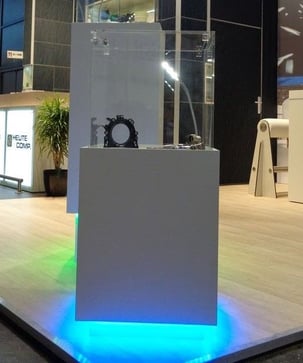 Personal thoughts about the project
The collaboration on the project was very intense and close. The last set-up day is always special fun. Here it's all about the joint positioning of the exhibition goods and the first look at the finished stand.
Since 2017, we have been working very trustfully with RocketExpo in all matters of individual trade show construction. For AGRODUR, the trade show appearances at Fakuma are particularly important and we are glad that RocketExpo has our back with very reliable project management. Qualitatively, the stands are flawless and very cleanly executed. We are looking forward to many beautiful booths that we will realize together with RocketExpo.
Judith Grosalski
Trade fair planning marketing, AGRODUR Grosalski GmbH & Co. KG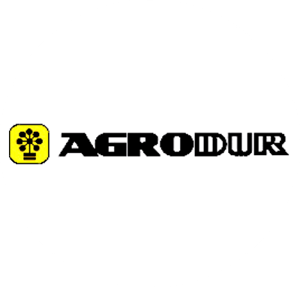 The AGRODUR - HEUTE + COMP. group of companies has been a leading manufacturer in Germany for more than 50 years with over 500 employees. The group of companies offers precision parts made of thermosets, thermoplastics and fluoroplastics for customers all over the world, from development and material selection, design, prototyping and toolmaking to additive manufacturing and series production on state-of-the-art equipment.