Trade fair stand at the Expo Real in Munich for NAI apollo
The trade fair concept
NAI apollo was also present at the real estate trade fair EXPO REAL 2019, Europe's largest trade fair for real estate. The company exhibited there with an inviting bar atmosphere. This allowed trade fair visitors to escape the stress of the fair. An ideal meeting place to make contacts in a cosy trade fair atmosphere. With its attention to detail, the stand exudes a mixture of seriousness and coolness. The idea of being different from the competition is reflected in the company's self-confident appearance. A nice contrast to the very businesslike stands of the other exhibitors and thus convincing all along the line.
The trade fair project
What was nice here was the customer's willingness to consciously opt for a very individual design and to work out the character of a "club lounge" together with us. The cosy atmosphere on the stand then also ensured full aisles, to where the visitors crowded. In particular, the exhibition counter and the cosy armchairs were eye-catchers and found lively use.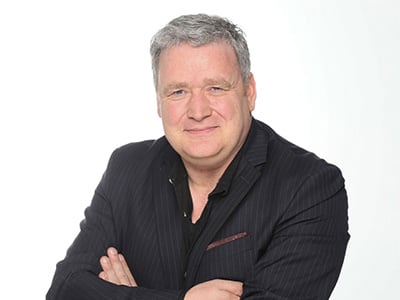 Dirk Jansen
Projektmanagement & Design
+49 (0) 2472 9910 - 22 dirk.jansen@rocketexpo.com
The trade fair graphics
An der Wand hinter der Theke ist ein Regal mit verschiedensten Getränken und Spirituosen dargestellt. Dadurch fühlt sich der Messebesucher wie zu Hause in seiner Lieblings-Bar. Das wohlige Gefühl sorgt für Entspannung und macht offen für Neues. Dieses Gefühl wird durch die Fenstergrafiken im Besprechung- und Launchbereich verstärkt. Durch die Hinterleuchtung wirken die Fenstergrafiken hell und freundlich und verleihen die Illusion einer realen Aussicht.A shelf with a wide variety of drinks and spirits is displayed on the wall behind the bar. This makes the trade fair visitor feel at home in his or her favourite bar. The cosy feeling ensures relaxation and makes one open to new things. This feeling is reinforced by the window graphics in the meeting and launch area. Backlit, the window graphics appear bright and friendly and give the illusion of a real view.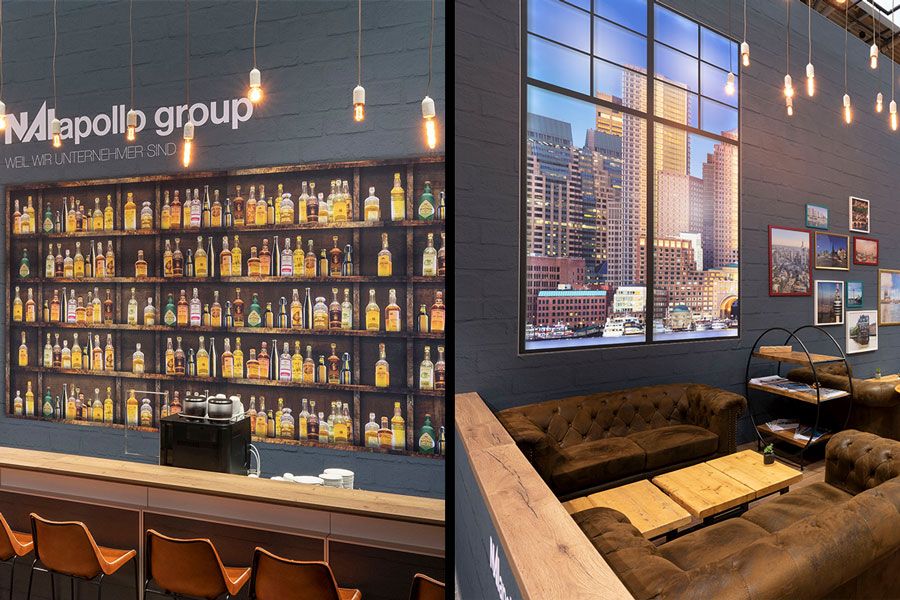 Conclusion on the NAI apollo trade fair stand
NAI apollo had complete success with its trade fair appearance at EXPO REAL. The stand stood out from the rest and repositioned the brand. This attracted a lot of attention and interest in the company from the trade fair audience. With such an important trade fair project, it is also important to have good cooperation, which went super with the entire team. RocketExpo thanks NAI apollo for the excellent work in partnership.
On behalf of the entire NAI apollo Group, partners, NAI Austria and NAI apollo, we would like to thank you very much for the very successful trade fair stand. We received great feedback from numerous customers and partners about our stand. Thank you for the terrific implementation and your commitment!
Blagica Mitanoska
eCommerce / Social Media, NAIapollo