Individual and modular exhibition stands
for Kadant Johnson
The fair project
The joint cooperation between Kadant Johnson and WWM began with a customized exhibition stand at Zellcheming in 2011. Since then, customized and modular exhibition stands have been developed again and again in the past for a successful trade show appearance. The exhibition stands of this industrial customer are designed for medium-sized stand areas. Despite the high quality of the exhibition systems and textile graphics, the trade fair costs are manageable.
Particular importance is attached to the sustainable use of the stand design. The same booth is used for several trade show appearances at different trade shows and booth spaces, so a timeless graphic design is required that does not lose its relevance and significance after just one trade show appearance. The booth at the ICE Europe in Munich is a 7x3m modular corner booth.
Sustainable trade fair concept with timeless trade fair design
A modular trade show booth was designed for the company's presence at ICE Europe in Munich and Tissue World in Düsseldorf. The clear design in the company's corporate design ensures that the trade fair stand can be used over the long term.
The textile graphics and the corresponding trade show design were designed and produced by our MediaService team for multiple use. Physical exhibits are displayed on the stand for visitors in showcases. These can be flexibly arranged to display a product staircase or individual showcases. Additional furniture, such as tables and chairs were added from rental equipment.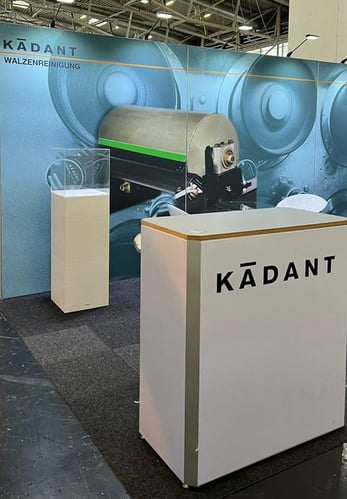 Personal thoughts on the Kadant Johnson booth
Kadant Johnson is a long-standing customer. Originally started with individual booths of our business unit RocketExpo, modular booths are now also planned and realized by our ExpoCloud team. The challenge to create a timeless design has worked out wonderfully in cooperation with the customer and our MediaService team, so that the booth can be used at various trade shows.
The long cooperation between WWM and Kadant Johnson speaks for itself. We particularly appreciate the uncomplicated, friendly and competent manner of the team. From the planning to the finalization of our trade fair stand, WWM has always been a reliable partner for us, whose many years of experience we would no longer want to do without.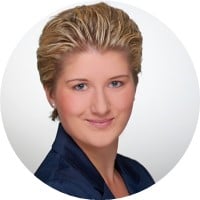 Sales & Marketing Manager, Kadant Johnson Deutschland GmbH

Kadant Johnson Deutschland GmbH is a global supplier of high-quality critical components and specially designed systems used in process industries worldwide. Its products, technologies and services play an essential role in increasing process efficiency, optimizing energy consumption and maximizing productivity in resource-intensive industries.