Customized trade fair stand for optimed GmbH at LINC 2023 in Leipzig
The stand design and trade fair concept by optimed GmbH
Small booth big! Optimed came to us with a clear objective: "Design us a booth, must be an interactive diamond"! For us, this meant creating an individual trade fair stand that stimulates and touches all the senses. With an open design and a lively lighting concept of colored light and media eye-catchers, we more than succeeded.
The trade fair appearance with a special challenge
The special challenge was to reach the trade fair visitors on several sensory levels. Therefore, we decided on a lively lighting concept and the use of media highlights. An LED video wall that draws attention to the stand from a distance and a media display on the stand that invites interaction. The long-distance effect of the LED wall was reinforced by a dynamic ceiling suspension of curved elements.
Special eye catcher



In addition to the media eye-catchers, there were other highlights in the form of a meeting room, which could be made more open by a glass door and a window, but still radiated discretion.
For better orientation on the booth, a printed floor was used, which made the individual areas of the booth stand out. Furthermore, the product of optimed was included in the floor print.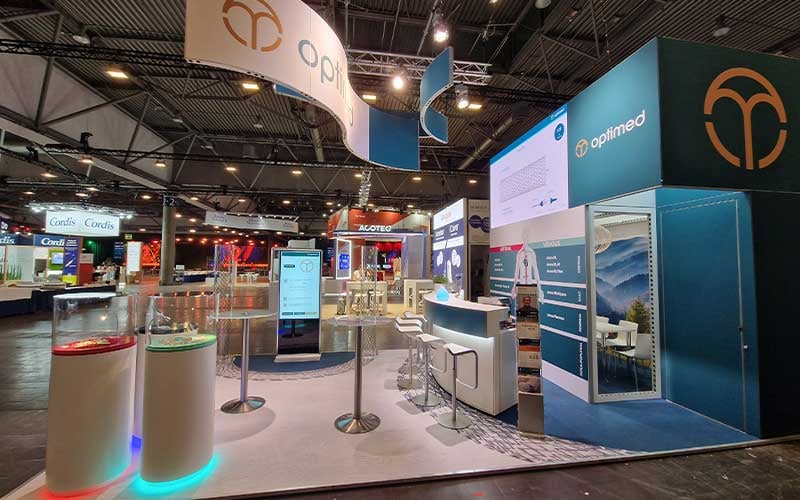 Conclusion on the trade fair stand of optimed GmbH
With this booth design we succeeded in arousing multi-sensory emotions: seeing, feeling, touching, movement, interaction - the visitor immediately finds his way around and can absorb the essence of the product in a very short time.
"Create us a diamond": goal definitely achieved.
It was great fun to realize this booth design for optimed GmbH.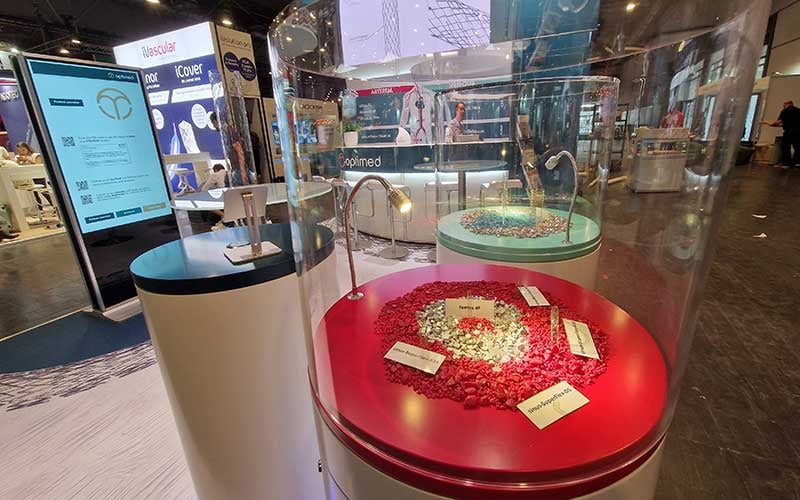 Thank you very much for the perfect implementation. Your team has exceeded our expectations.
Tanja Burkhardt
Marketing Specialist, optimed Medizinische Instrumente GmbH
Since 1996, optimed, based in Ettlingen/Germany, has been engaged in the research, development, production and worldwide distribution of high-quality medical products for minimally invasive therapy. A total of over 200 employees guarantee the smooth running of the company organization. Our "German Heart" mentality is evident not only in the special quality of our products, but also in our always reliable and smooth supply chain.