New print-on-demand service for myWWM customers
Press release from 15.04.2015
Flexible production, low storage risk and fast delivery. These are the core arguments for the production of print products using the print-on-demand process. This service is now available to WWMcloud customers.
WWM's print and graphics service has expanded its machinery with a fully automated printing line, thus extending the range of services for WWMcloud customers. Print products ranging from catalogs to business cards are now produced in-house using the print-on-demand process. Not only is the high-quality print result of the articles produced in digital printing convincing, but also the arguments for switching from warehousing to the on-demand process.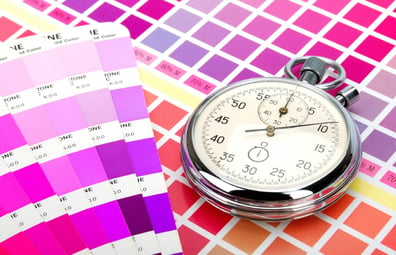 How does the print-on-demand process work?
Print data management is simple via the myWWM software. The print data is stored in the portal and qualified as a PoD article. If the article is ordered, it is produced and delivered just in time. The print template currently stored in myWWM is always used. This makes it easier for customers to keep their content up to date. Changes and updates can be made at any time and stored as a new template.
What products can be produced?
Digital printing can produce print products with a maximum sheet size of 330 x 487 mm. This allows the range of standard products such as catalogs, brochures, invitations, flyers or business cards to be covered. There is a range of standard media (paper grades in various grammages) available immediately, enabling production within 24 hours. Customized media are also procured and printed upon the customer's request. In this case, the production time depends on the respective delivery times for these media. The print-on-demand process complements the WWMcloud services. With the connection to the numerous logistics options of WWMcloud, it offers customers a decisive step towards making communication measures more flexible.