Customized exhibition stand for Duesberg Gloves
The project
The 6x6m head stand at Medica 2021 in Düsseldorf was primarily intended to raise awareness of the "Duisberg Gloves" brand. The realization of the stand was a race against time, since only 2 weeks were available for the realization of the stand. The booth consists of a high back wall, in front of which a brightly illuminated wall was positioned. The counter in front of this illuminated wall was redesigned, which was a challenge given the short preparation time and a low budget. A light cube was placed above the booth for long-distance effect. A high table and several bar stools were used for conversations with visitors.

The stand is kept very open and therefore has an inviting effect on the visitors. The color play of white and blue in combination with backlighting provides a harmonious overall picture.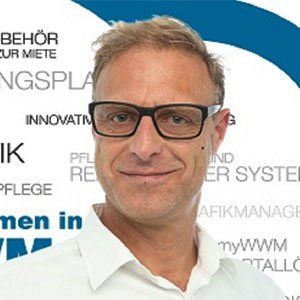 Bernd Freiter
Head of RocketExpo Projectmanagement
+49 (0) 2472 9910 - 25 bernd.freiter@rocketexpo.com
Highlight of the booth
In addition to the backlit wall, the backlit cube and the illuminated counter, cube shelves were used for product presentation, with each shelf illuminated from above. The shelves were also on a raised pedestal so that the products could be found at eye level. The open shelves made them blend in beautifully with the overall look of the booth.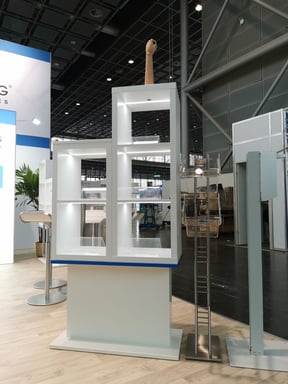 Personal thoughts about the project
The customer approached us two weeks before the start of the trade fair. It was an absolute challenge to develop and execute a suitable concept in such a short time. This could only succeed because we - the customer and RocketExpo - worked wonderfully together as a team.
Das Team um Bernd Freiter hat es geschafft, in kürzester Zeit einen absolut wunderschönen Messestand zu zaubern. Da wir zeitlich sehr unter Druck standen, und das Düsberg-Team ständig auf Reisen, waren wir auf schnelle Kommunikation und Empathie des Messebau-Teams angewiesen. Die Qualität der Grafiken und das Lichtkonzept waren einwandfrei und sorgten beim Messebesucher für Aufsehen. Auch die gemeinsame Entwicklung der Präsenter binnen 2 Tagen war eine Herausforderung, die wir gemeinsam gemeistert haben. Catering und sonstige Services in letzter Minute : Danke an das gesamte RocketExpo Team, Ihr seid spitze.
Ralph Westermann
Unternehmen: Hebet Asia GmbH, Brand: Düsberg Gloves
Only high quality and reliable products and services deserve to carry the Duesberg brand. Duesberg Gloves are high quality 4mil thick, powder-free, ambidextrous gloves designed for use in the medical field to protect patients and users from contamination, to perform medical examinations, diagnostic and therapeutic procedures, and to handle medically contaminated material. Duesberg Gloves comply with international, American and European standards.Duesberg Nitrile Blue Medical Examination Gloves are high quality 4mil thick, powder-free, ambidextrous gloves that are chemical resistant according to EN-374 and intended for medical use according to EN-455.