Exhibition stand for Edgetech Europe GmbH
at the Glasstech in Dusseldorf
The trade fair project
Staying ahead of the competition by the famous nose is the declared goal of Edgetech Europe GmbH, a leading company in the window industry since 1989. Edgetech Europe GmbH approached us with this goal in a very open briefing:

"We would like to have an affordable booth that completely stands out from the other booths at Glasstech in Hall 17. Our desired stand should present the product visually and haptically, and it must explain itself within a few seconds. Along the way, of course, our visitors should feel comfortable."

Our design team created initial drafts on this basis and went through several "design loops" until the stand design was perfect for everyone involved. Of course, price plays an important role in the development of a booth design. Therefore, every design or design change is immediately priced and agreed upon in our quotation.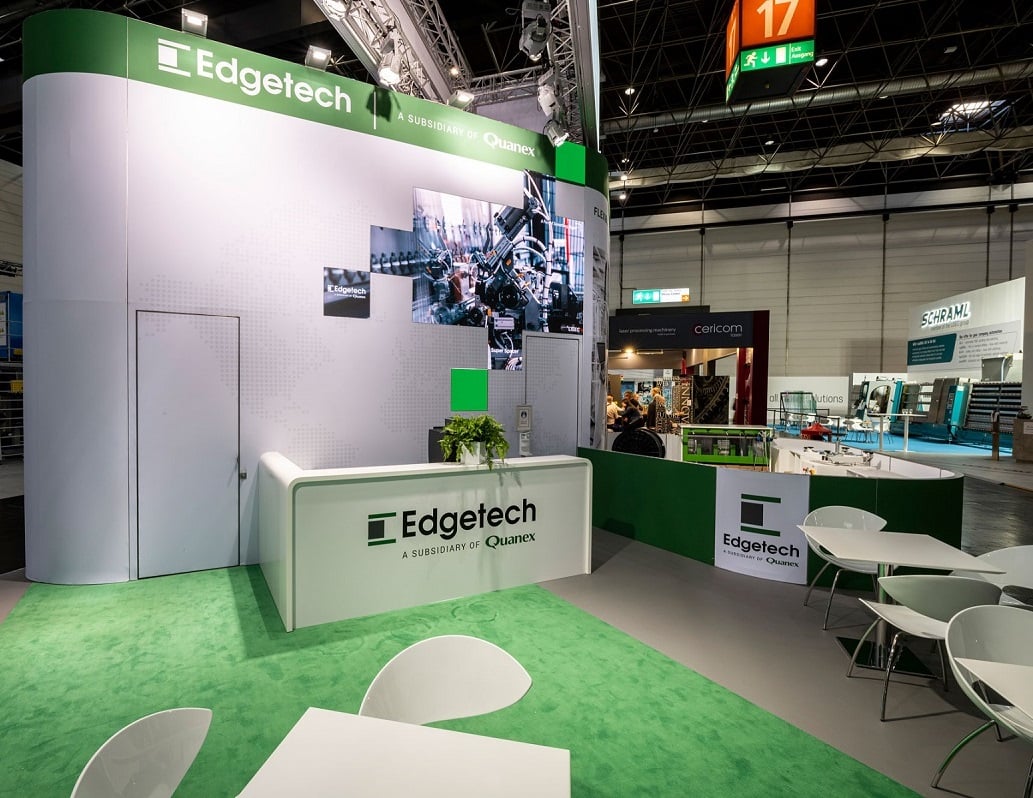 A special look thanks to modular LED video wall
Bright and friendly should be the booth of Edgetech Europe GmbH. Highlighted by clear lines and a backlit top banner, our textile trade show booth was able to inspire many visitors and achieve the necessary attention and long-distance effect. An open booth concept was further promoted with the use of only one exhibit.

The special highlight, however, was the two-dimensionally integrated LED video wall, which, thanks to the modular design, could also score with staggered modules. Incidentally, this eye-catcher can also be played with new content at short notice and on request, thus contributing to sustainable trade show construction.

Learn more about LED video walls
Every trade fair presents different challenges
Long-distance effect is the be-all and end-all of an attention-grabbing trade fair concept and thus naturally has a direct influence on visitor numbers. However, since the structural condition of Messe Düsseldorf does not allow any suspensions, we integrated the lighting directly into the stand and mounted the top banner at a height of 7 meters.

Where other exhibitors simply presented their machines, the open designed booth of Edgetech Europe GmbH offered the right ambience for interesting conversations and presentations.

A satisfied customer, thanks to convincing concepts and implementations is the reward for the work done. With fair conditions and targeted highlights, we succeeded in convincing Edgetech Europe GmbH of an individual system stand and laying the foundation for many further projects.

We are looking forward to further cooperation!
Thank you once again for your help with Glasstec, we loved our booth and had so many positive comments. Hopefully a lot of new business to follow also!
Head of Marketing, Edgetech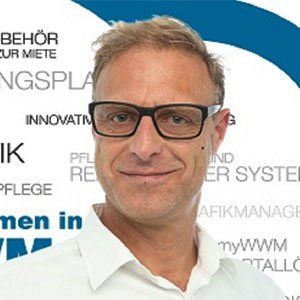 Bernd Freiter
Team Leader RocketExpo
+49 (0) 2472 9910 - 25
bernd.freiter@wwm.de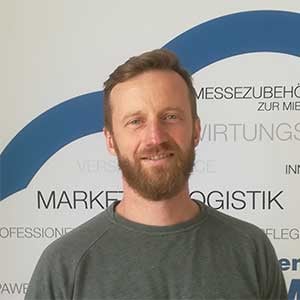 Eduard Geraskin
Project Manager
+49 (0) 2472 9910 - 43
eduard.geraskin@wwm.de