Virtual trade fair presence for Helios Dr. Bulle
Virtual exhibition stand
Helios Dr. Bulle's virtual 2D trade show booth is integrated into the company's website to present the product portfolio to visitors at the booth without time constraints. The design of the virtual trade fair stand is based on past physical trade fair stands in order to create a recognition value. In addition to play buttons and "I" icons, specific product information in particular is displayed with product images as info points. Here you can have a look at the virtual booth of Helios Dr. Bulle.
Special features
The background image of the building in which the virtual trade show booth is displayed shows the company's location in Wertheim and thus provides a personal character.

A further individualization of the booth is created by the product images of insulated bottles and containers, which are integrated as information points on the virtual booth. The products are placed on product steals - as in a physical trade fair stand - and can be exchanged at will. Behind the info point of the IPad, Helios Dr. Bulle has linked an image gallery, which can be designed by the sales and marketing staff themselves with a free tool and adapted again and again.

After a software training by WWM, employees of Helios Dr. Bulle have the possibility to edit and exchange the linked info points independently in the future. In this way, the information on the exhibition stand can be kept up to date in the future.
Summary
Together with Helios Dr. Bulle, we created an individual, virtual trade fair stand. Products can be placed and exchanged just like at a physical trade show booth. With the help of tracking data, it is possible to evaluate which product was clicked on the most or least by prospective customers. The 2D view of the booth also ensures short loading times and thus creates an optimal user experience for the visitor.
WWM was able to perfectly implement our ideas of a virtual trade fair stand. A contact person was available to us at all times, who quickly answered any questions we had. Particularly praiseworthy is the fast loading time as well as the easy operability of the stand.
E-Commerce, Helios Dr. Bulle GmbH & Co. KG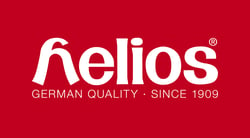 Helios Dr. Bulle GmbH & Co. KG was founded in 1909 in Ilmenau, Thuringia. The family-owned company is a manufacturer of insulated jugs and insulated bottles for professional applications as well as for private use. As the oldest insulated vessel manufacturer in Europe, Helios Dr. Bulle is today the market leader for insulated jugs in the professional sector.