Rent exhibition stand
Flexibly access cost-effective rental equipment and save high investment costs.
Exhibition stand for rent - Cost-effective alternative to the purchased stand
An investment for the future or cost-effective and flexible? The answer to this question is certainly your frequency of trade show participation per year and your available trade show budget. But whatever you decide, with WWMcloud you are perfectly equipped for your successful trade show appearance.
Whether modular exhibition stand or mobile exhibition stand: If you rent your exhibition stand, you can reduce your trade fair costs and create more flexibility. Because even with a small trade fair budget, you will score individually and with different trade fair stands at every event. As a WWM customer, you have online access to a wide range of rental exhibition stands at any time. Our system in exhibition construction provides countless combination options and construction methods for your individual rental trade fair stand. Benefit from our experience and reduce your trade fair costs.
"We can combine our own equipment with rental equipment and use the solution in a standardized way at several events a year."
Edith Fischer, Marketing Manager, xbAV AG
Advantages of exhibition stands for rent
Companies that organize many trade show appearances each year benefit from the advantages of a rental booth. Investment costs are eliminated and you still have access to the latest trade fair equipment.
Why it is worth renting an exhibition stand instead of buying one
If you're looking for an efficient and cost-effective way to showcase your business at trade shows and events, consider renting a booth instead of buying one. Here are four reasons why renting a trade show booth is a better option:
Cost-efficiency: renting a trade show booth is usually more cost-efficient than buying your own. You save on the initial cost and don't have to worry about selling or storing it when it's no longer needed.

Flexibility: trade show booths can be rented as needed, giving you the option to use different booths for different events/booth spaces.

Modern trade show accessories: rented booths are often equipped with the latest technologies and designs, so you can offer a modern and appealing presentation without the cost of updating your own booth. Rented booths also do not incur the cost of repairs and maintenance, as these are taken care of by the rental company.

Easy organization: Renting a booth is a simple process that can be handled in the myWWM portal. This allows you to concentrate fully on your trade show appearance.
Which companies benefit from offering an exhibition stand?
Companies that should choose to rent a trade show booth are especially small and medium-sized companies that have a smaller trade show budget. Likewise, companies that are only occasionally present at trade shows and events or exhibit at many small events with different booth spaces. Companies exhibiting at a trade show for the first time can test various trade show systems before purchasing them.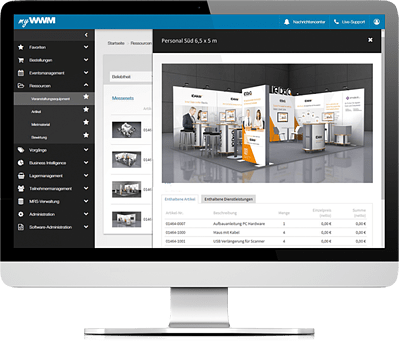 You would like to rent a trade fair stand?
Get to know the organization of your trade fair appearances in the WWMcloud in a new way.
Request stand for rent
Book additional services online for the rental stand
If your exhibition stand for rent is configured in myWWM, you can book additional services online:
This allows you to outsource all services to one service provider and concentrate on your trade show presence.
Request a non-binding quote for your rental stand
and save on investment costs