WWMcloud Warehouse Management
Professional and efficient warehousing for your live marketing equipment
Qualified warehouse management with WWMcloud
With WWMcloud, we not only take care of the warehousing for your trade fair systems and marketing materials, but also of all logistical processes associated with the management of your resources.
We put our capacities at your disposal and take over the complete warehousing including a variety of services related to the management of your event equipment. In addition to the storage of your exhibits, this naturally includes the professional cleaning, care and maintenance of your stock. Our expert staff specializes in keeping your equipment in the best possible condition so that it is ready for use at any time and for the long term.
Inventory control becomes a piece of cake
You have the option of viewing your inventories online in WWMcloud- at any time and from anywhere. Your entire equipment is stored centrally in our state-of-the-art Service Hub and can be conveniently accessed, managed and ordered via WWMcloud.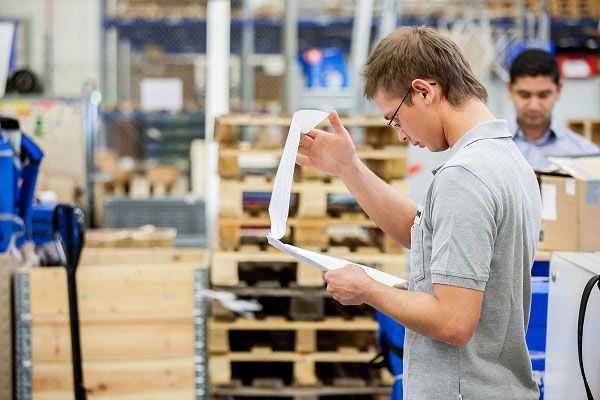 More on forward-looking warehouse management
Ask for the optimized trade fair warehouse management with WWMcloud.
Send request
WWM Service Hub with state-of-the-art technology
In our WWM Service Hub at the Alsdorf site, located directly on the A4 and A44 freeways, we work with extremely short response times and can call up day-by-day overviews of our inventories. In this way, we manage the complete logistics for over 3,500 events and 15,000 advertising material shipments for our customers each year.

The warehouse management is controlled by an innovative ERP system. All items stored with us are kept in a customer-specific stock ledger. This means that the current stock of all items can be accurately recorded at any time.
Large storage capacity
Optimal storage capacities are available in our Service Hub, where your complete event equipment and related articles and advertising materials can be stored. In addition to the large selection of modular exhibition systems available to you for free rental, all customer materials are stored, managed and shipped here.
Modern technology
Our Service Hub is equipped with state-of-the-art equipment and systems according to the latest technology. This means that a large number of orders can be processed easily within a very short time. All articles are recorded via a modern ERP system and all stored products are provided with article numbers. Thus, all items have a fixed location and can be quickly assigned.
Transparent billing
You only pay for the storage space you actually need. This way, your storage costs are calculated transparently on the basis of the required storage spaces. All other costs are broken down into clear categories. You can choose to pay monthly, quarterly or annually - whatever works best for you.
Quality management
Both exhibition systems and advertising materials are counted by our qualified staff after each return delivery, checked for any damage and cleaned before they are put back into storage. The stocks in WWMcloud are automatically updated so that they are released for ordering again.
Insurance
All your equipment is covered by an exhibition insurance policy. If defects are found in an exhibition system or rental equipment during the inspection of the material, damaged systems will be replaced free of charge under the insurance. Damage to graphics produced by WWM is also covered by the insurance. We will deliver replacement graphics within 48h, provided your graphics data has been approved.
Intelligent logistics processes
If you initiate an order from our warehouse via WWMcloud, it is automatically transferred to a packing list. During picking, the quantity of the items on the packing list is recorded. Only when the packing list has been completely processed is the delivery sent to your venue or to your customer. The packing is optimised for transport and is carried out at the most favourable conditions. We ship for you on time, worldwide and always at favourable conditions.



Your equipment ready for immediate retrieval
We ensure that your equipment is stored in perfect condition at all times. After each event, both exhibition systems and advertising material are checked by qualified employees before being stored, cleaned, checked for any damage and any corresponding defects are immediately repaired.
Your request for warehouse management