Virtual exhibition stand
Digitize your trade show presence with a Digital Twin.
Virtual exhibition stand as digital twin
Already the term virtual is very much related to the term virtual reality, which describes a reality simulated by a computer. Thus, the virtual exhibition stand is not in reality and takes place only in simulation. So, in order to create a virtual trade show booth, you first have to create it digitally. This is mostly done with software solutions from the field of CAD or VR. However, the purpose of the virtual trade fair stand at a virtual trade fair is that it can also be "visited" by visitors, and thus the virtual trade fair stand must be accessible to a specific target group on the Internet (e.g. the company website).

This requires a suitable programming language (e.g. WebGL) as well as appropriate server technologies for hosting. Here, WWM relies on the Studio software solution, which enables the simple provision of virtual trade fair stands on the Internet. However, another central requirement for the virtual trade fair stand is interaction with the visitor, i.e. the virtual trade fair stand must be able to interact with the visitor and provide content at the visitor's request. However, this is easier on the Internet with Internet technologies than in real life, since content can be linked from all over the Internet. We call these interaction points with the visitor Info-Points and can create them freely.
Virtual exhibition stand software
No matter if you want to create a 2D or a 3D virtual booth, you need a software for the implementation and integration of interaction points. Here it means directly once attention: Some providers offer only one solution in your software. So think beforehand which variant of the virtual trade fair stand you would like to implement. The best solution would be a software that offers virtual exhibition stands in 2D as well as in 3D. So you are flexible and can try both variants once.
Software VirtualShow for virtual exhibition stands
Our software solution "VirtualShow" allows the creation of virtual exhibition stands, virtual exhibition tours as well as virtual showrooms in 2D as well as in 3D. This software does not need to be installed and works in any browser. Through numerous interaction possibilities, such as the integration of videos, forms and many other functions, you can expand your virtual event and turn it into a multimedia infotainment experience.
Request a free demo account
My name is Barry Penners and I'm happy to answer your questions about our VirtualShow software.
Let's take a look together in a live demo at how you can best use our VirtualShow software for your project. I will be happy to provide you with a free account afterwards.
If you are looking for a tool to create virtual events, please contact me for a non-binding consultation.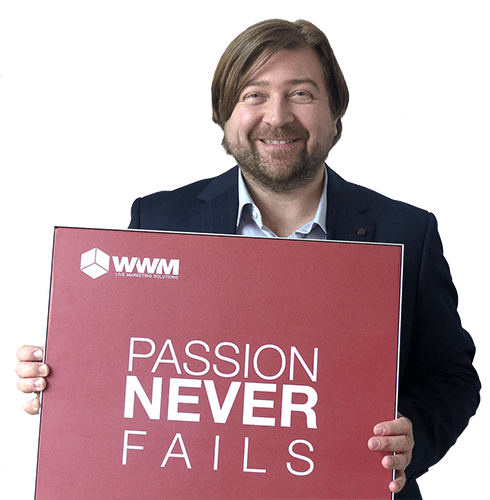 Functions of the virtual exhibition stand
Creation of 2D and 3D environments
Virtual rooms can be created in two or three dimensions

Integration of backgrounds with info points
PDFs, videos, forms, links, contact data, etc.

Tracking function of info points
Clear dashboard incl. data protection compliant evaluation

Integration of the virtual exhibition stand
The virtual trade fair stand can be integrated into any website using iframes.

Deposit of background music
Design of the virtual rooms with individual music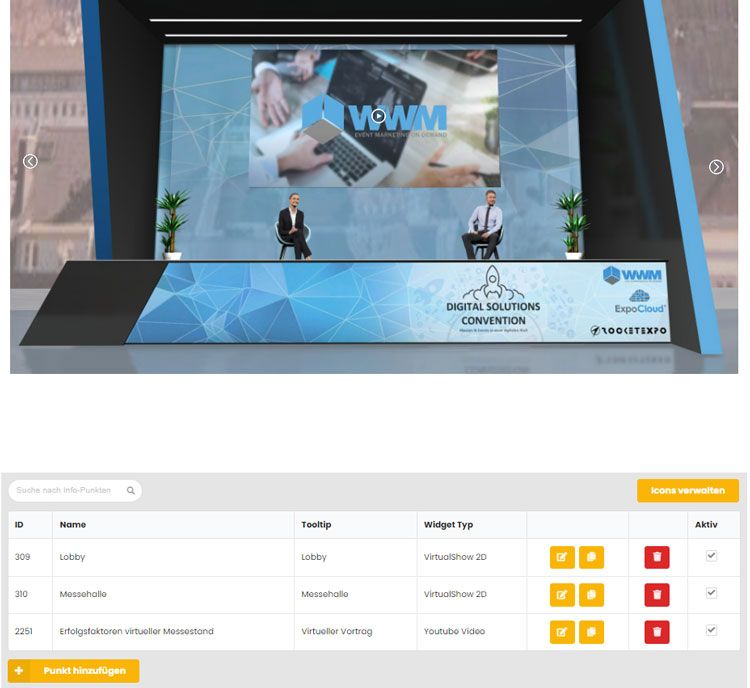 Would you like to learn more about the virtual trade fair stand?
Ask about our virtual trade fair solution without obligation.
Request virtual booth
Our recommendation: The Virtual booth as Digital Twin
We, on the other hand, believe in the virtual trade show booth as a so-called digital twin of the real trade show booth. This can be used as an integration on the website as well as a component of a virtual trade fair. In this sense, the virtual trade fair stand is not a substitute for the real trade fair stand, but a symbiotic complement that goes beyond the real trade fair presence. With the Digital Twin, you reinforce your real trade fair stand. You can implement this yourself with the help of the software solution or, as with the trade fair service, you can hire project managers to implement your virtual trade fair project.

This approach makes sense if only because you can use the advantages of both solutions without the disadvantages. We distinguish here between three scenarios for the use of the virtual trade fair stand.
Increase your reach with a virtual trade fair stand - get information now!