Online event platform from WWM
Organise online events with our virtual event platform and let interested parties participate in your company and products, accompany visitors in all phases of the customer journey - 365 days a year, 7 days a week and 24 hours a day.
From the planning of your trade fair stand to the trade fair presentation with WWM.

WWM supports you from the idea of your trade fair stand to its implementation and beyond, so that your trade fair presentation is a success. Access our free trade fair systems and design your trade fair stand digitally in 3D or create a Digital Twin of your physical trade fair stand with our software. In addition, you can book the appropriate services, such as trade fair logistics, trade fair assembly, advertising materials or trade fair catering. Do you want a virtual event platform to present your products and services throughout the year and be accessible to interested parties at all times in addition to your real trade fair presence? Together with you, we will create an individual, virtual trade fair for your company.

With DSGVO-compliant visitor measurement and KPI-based evaluation, you can analyse and continuously improve your real and virtual trade fair presence. With our software, you can digitalise your event management in a process-optimised, measurable, scalable and sustainable way.
Simplified event management with WWM
WWM enables you to plan, execute and analyse your trade fair presence.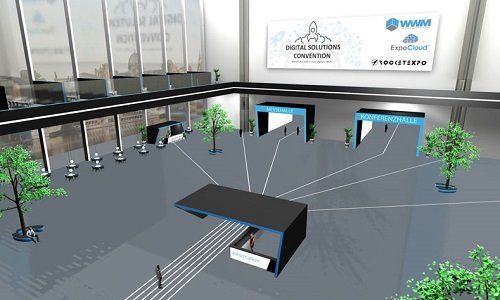 Virtual events open up new possibilities in event design and bring many new advantages. Our virtual event platform (VEP) enables you to easily play out your content with a high reach. You have the opportunity to draw attention to yourself 365 days a year and 24 hours a day. By using new technologies, an easy-to-use virtual event platform can be created.
Holistic event resource management with myWWM

Plan trade fair appearances easily online with free trade fair rental systems, design trade fair stands in 3D and order them in myWWM. Select and book the right event logistics, trade fair set-up and dismantling, individual advertising materials and trade fair catering online. All trade fair expenses and budgets remain transparent and are easily analysed, whether 5 or 500 events per year. myWWM offers DSGVO-compliant visitor measurement and KPI-based evaluation of visitor flows.

With myWWM, you create your exhibition stand at the touch of a button, order all exhibition services online and evaluate your live communication performance just like in online marketing. In short, myWWM stands for the holistic digitalisation of your live marketing. Because we feel responsible for the success of your live communication.


Trade fair appearances at the click of a mouse

With myWWM you digitise your event management in a process-optimised, measurable, scalable and sustainable way.
Save time with efficient event management
With myWWM, holistic event planning is so process-optimised that you can reduce the planning time per event by up to 75%. Transparent information for all stakeholders and the certainty that all trade fair services are scheduled according to plan. For full event control, you have online access to the myWWM portal at any time and from anywhere. You can see all item availabilities, from advertising materials to your own and free rental trade fair systems to your individual trade fair graphics. Your current projects are displayed in detail and the current status can be viewed at any time. You always know exactly which delivery is pending and when it will arrive, which exhibition stand has been set up, dismantled or is already on its way back. With myWWM you have the full overview at the touch of a button.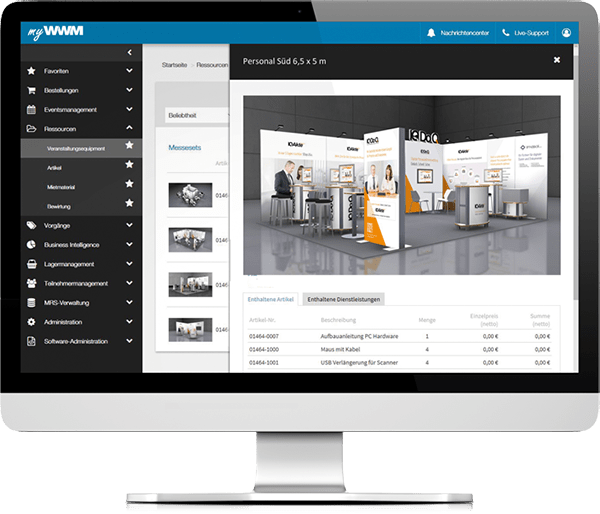 The myWWM Event Resource Management Workflow

myWWM is based on the learned and digitally optimised processes of event planning. Plan, execute, analyse and measure the success of trade fair appearances. The evaluation of the performance of your current live communication uncovers optimisation potential that flows into future event planning. With myWWM, you bring your live marketing into a continuous improvement process and through the digitalisation of your event management simply and efficiently to more success
Planing
Simply plan your exhibition stand online in 3D with our free rental systems, your own exhibits and exhibition graphics. Logistics, assembly, catering and advertising materials can be booked directly and ordered online in myWWM.
Execute
Europe-wide event logistics, trade fair assembly service and advertising material handling at a fixed price. Software-controlled warehouse management for your own trade fair equipment and rental systems, as well as large-format trade fair printing from a single source.
Analyse
KPIs as in online marketing - whether visitor flows at the exhibition stand or dwell time at exhibits. From cost distribution to integrated quality management - myWWM makes live communication measurable and transparent.
Using Event Metrics sensors, the number of visitors to and around your stand, individual areas and exhibits is recorded automatically and in compliance with the DSGVO. You know the number of visitors to your stand, the time they spend there and the number of returning visitors. In addition to the desktop view, all key figures on visitor frequency and visitor behaviour are also available to you in real time in the Event-Metrics app. As with Google Analytics in online marketing, you can easily compare and evaluate the performance data of your events.
Number of trade fair and stand visitors
Dwell time at exhibits
Number of returning visitors
Compare events with each other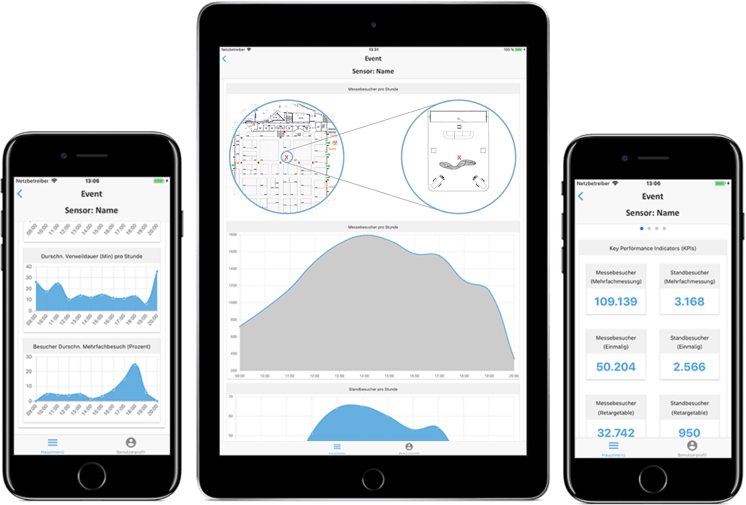 Simply design your exhibition stand online in 3D. Use the free exhibition rental systems from myWWM or your own stored exhibition equipment. Access the extensive portfolio of supplier-independent rental furniture and put together your exhibition stand entirely according to your wishes and ideas. Use your own trade fair graphics for display on the trade fair walls and present the digital trade fair stand to all decision-makers in your company. Time-consuming and cost-intensive changes to renderings are no longer necessary, because all renderings can be changed and adapted on site in myWWM Studio. All exhibition stand designs are saved and can be imported into the myWWM ordering process at the touch of a button. Order your digital 3D exhibition stand in myWWM at the touch of a button.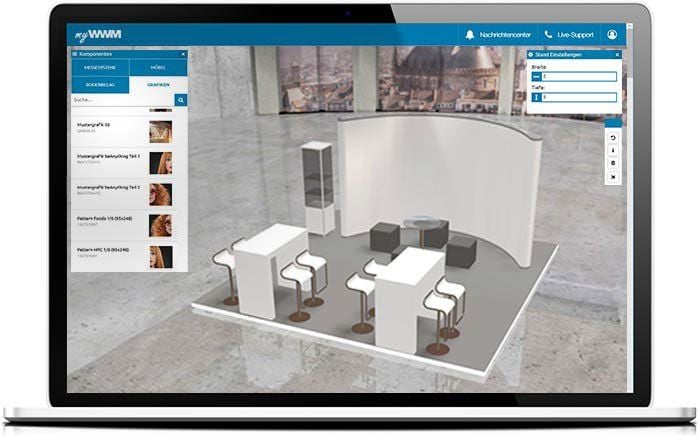 The virtual career day was very well received both internally and externally. Everyone was enthusiastic about the design and the functions. Our visitors emphasised in their conversations how much they value this opportunity for communication. Our employees were enthusiastic about the modern and easy way to stay in touch with the target group. And the cooperation with the WWM team was also really top! I would especially like to emphasise the flexibility, creativity, spontaneity and speed of the work.
Expertin Employer Branding, REWE Group
What we particularly appreciate about working with WWM is the individual design options for the exhibition stand. In addition, we would like to emphasise the good customer service and the uncomplicated ordering process.
Corporate HR Marketing & Employer Branding, Liebherr International Deutschland GmbH
We appreciate the professional warehouse management and the associated logistics options for our equipment, as well as the uncomplicated customer advice.
Trade Marketing Manager, Lexmark D/A/CH
The cooperation with WWM is excellent. Logistics and assembly are organised very professionally and can be managed very quickly and easily with myWWM. We have also implemented a new innovative trade fair stand with WWM, which is very successful. The employees are very professional, friendly and proactive. We are looking forward to further joint projects.
Marketing, VanEck Europe GmbH
The planning and organisation of our trade fairs, especially the dispatch of advertising materials and PoS material, is made much easier with myWWM.
Manager Geo Marketing DACH & EE, Wacom Europe GmbH
We can combine our own equipment with rental material and use the solution in a standardised way at several events a year.
Marketing Manager, xbAV AG
Through myWWM, we can plan and order our trade fair presence easily and efficiently from anywhere.
Marketing Organisation, IQDoQ GmbH
Since we have been using LED exhibition walls, we have been able to design our company presentation digitally in live communication.
Marketing Manager Programs, ADVA Optical Networking SE
Quality at the highest level is immensely important for our brand presence, which is why we opted for the myWWM solution.
Leitung Marktkommunikation Rational AG D/A/CH
Our trade fair presence is enormously simplified by the WWMcloud. We received competent advice and all questions in advance were answered quickly and patiently. We were able to optimise our workflows, the preparation is less time-consuming, but we are still absolutely flexible. Construction & logistics rounded off the all-round carefree package for us. The result not only delighted us, but also our customers.
Marketing, netucate systems
0
Employees give their best every day for successful live communication. Become part of our crew and come on board.
0
Events are ordered annually and executed by us. myWWM is optimised and digitalised event management.
0
square metres of operating space for your trade fair accessories as well as the sustainable, digitally controlled success of your live marketing.