Exhibition logistics and assembly service
Book logistic handling of your exhibition stand online via WWMcloud.
Your event logistics
Whether a classic trade fair, congress or recruiting event - logistics play a central role in the success of a company's presence. We take care of the entire logistics for you throughout Europe for your exhibition stands stored in our warehouse - from small exhibits to complete trade fair stands. Is your counter already at the event location and has the order for shipping your advertising materials already been placed? With WWM, you no longer have to worry about these and similar questions.

Put the complete logistical handling of your event in our hands and always keep track of the status of individual projects with WWMcloud.
Advantages of trade fair logistics and assembly services via WWMcloud
Simplified event logistics with WWMcloud
The web-based platform WWMcloud enables you to control and manage your marketing resources easily from a central location.

The WWMcloud software simplifies processes and procedures in event logistics to make you even more flexible. It doesn't matter whether you're organizing an international visitor fair with an mobile exhibition stand or exhibiting at a small trade show with your modular stand. With the WWMcloud software you reduce your event logistics to one stakeholder, with which all steps from the planning to the handling of your event are possible. In addition to a reduction in costs, this ensures less coordination effort.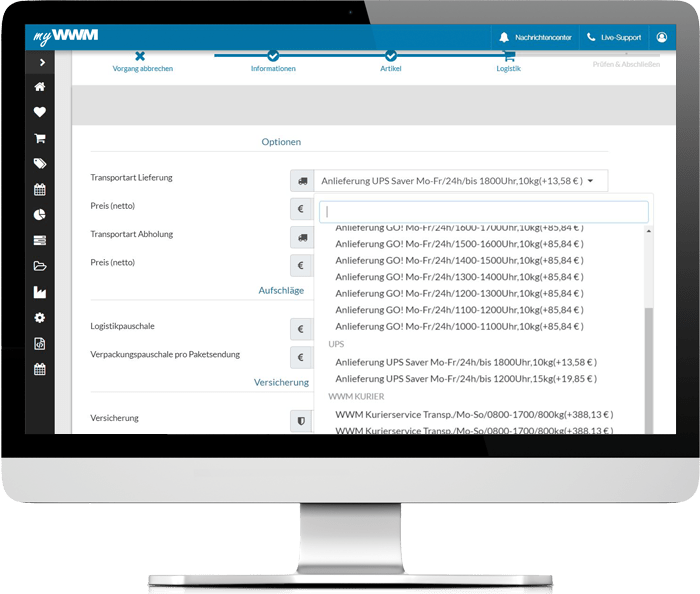 Fixed contact persons
You have a fixed contact person for your events in exhibition construction in every phase of your event management. So you can be sure that your events will run smoothly. Our qualified customer consultants take your ideas and requirements to heart in order to create perfect event concepts. Everything for your perfect live communication.
More about trade fair logistics and assembly service via WWMcloud?
Ask about our WWMcloud trade fair logistics and assembly services without obligation.
Assembly and disassembly for your exhibition stand
With our exhibition stand assembly and dismantling service, we ensure that your event runs smoothly. We organize and plan the timely delivery and professional assembly of your trade fair stand by our competent assembly teams. In WWMcloud, you can define the most important parameters, such as assembly date, event start or stand handover, with just a few clicks, so that your stand personnel only arrive on the day of the event.

After the event, we take care of dismantling your trade fair stand and transporting it back to our Service Hub. There, we check and clean your equipment and then carefully put everything back into storage. In addition to your trade fair stand, you can also have your advertising materials, graphics and other trade fair equipment delivered for storage management or marketing logistics and thus receive all services from a single source.

We are on the road for you throughout Europe to professionally assemble and dismantle your trade fair stands. The routes of our assemblers are planned in such a way that we save time and fuel. We pass these savings back to you in the form of favorable all-inclusive prices. You pay a fixed price for your assembly, no matter where and when in the respective country your event takes place.
Request reliable trade fair logistics and assembly