Reduce trade fair construction costs
Plan costs for trade fair appearances sustainably and save budget in the long term.
Reduce costs for your trade fair presence
Trade show participation is expensive relative to online marketing efforts. To ensure that the leads you gain at the trade fair generate a positive result in relation to your investment, we give you tips on how to reduce your trade fair construction costs without reducing the quality of your trade fair stand.
Rent a booth instead of buying
The central factor in reducing the costs of trade show appearances is the use of rental equipment. This effect works in several ways. For example, the use of rental components directly reduces the investment costs in individual components associated with trade shows. On the other hand, the storage of the rental components is the responsibility of the trade fair constructor, thus reducing your ongoing costs for the storage of your trade fair equipment. Unfortunately, these storage costs are often neglected during the planning stage and in the end make up a not irrelevant part of the total costs associated with trade fairs. In addition, you pursue a sustainable trade fair concept with your rented trade fair stand.
Use of rental equipment
Trade show equipment that you only need a few times should be rented to keep investment costs and inventory costs low. This rule of thumb applies in particular to technologies, as software updates and constant product enhancements ensure that a product quickly becomes obsolete and has to be replaced. If you access the inventory of your booth builder, you can assume that he will always provide you with the latest technology.
Recycling of obsolete exhibition material
Before you destroy trade show materials, consider whether there might be a second chance for a piece of furniture or two. With foil you can give simple presentation systems a new look and thus extend the life of furniture that is still usable.
Expertise 2: Use reusable graphics
Besides the ecological effects of textile graphics hese graphics also offer a good lever for reducing the overall costs of trade show appearances. In particular, the use of modular structures enables the multiple use of graphics. However, this multiple use requires on the one hand a high durability of the graphics and on the other hand the possibility of cleaning. The textile graphics we use in dye-sublimation printing meet exactly these requirements. On the one hand, the graphics are maximally resistant to creasing, and on the other hand, they can be cleaned normally, so that they remain as good as new even after repeated use.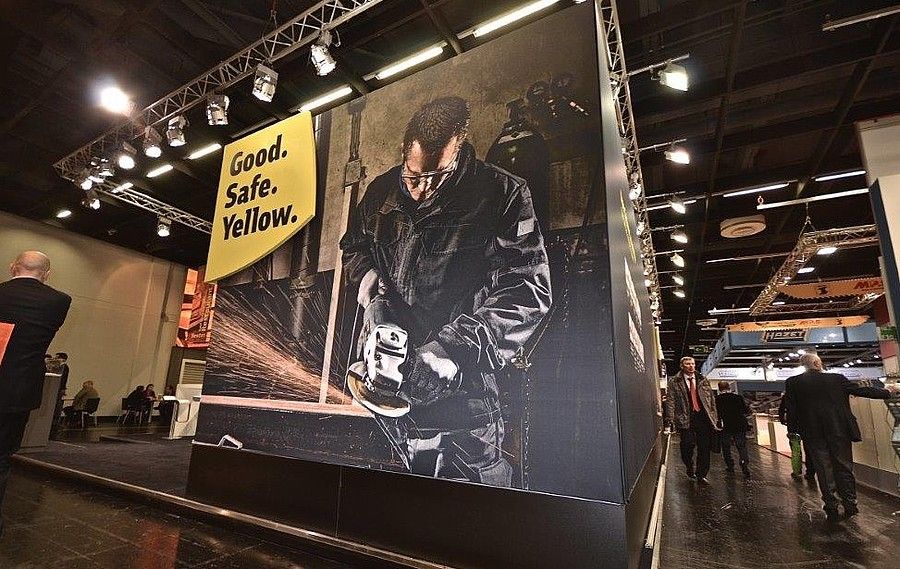 Although this printing method is more expensive than alternative methods during the first production, it offers a significant reduction in costs for the entire stand already during the second use.
Use LED video walls for fast-moving content
The content you present at a trade show may well be short-lived, keeping textile graphics costs high. If you want to remain flexible when presenting content, use LED video walls instead of print media on which the content is played. These can still be adapted on site at very short notice. LED video panels are ideal as a rental component of an exhibition stand to avoid high investment costs. In addition to the cost savings to produced print media, you digitize your trade show presence.
Would you like to tell us more about your targets
Send us your inquiry without obligation.
Send request
Restrict logistics to lightweight trade show components

A key driver of logistics costs is the transport weight. The aluminum structures we use are extremely light and at the same time extremely stable. Although such components are more expensive to manufacture (as always in lightweight construction), this is not a disadvantage for the exhibitor due to the rental. However, the low transport weight reduces the transport costs associated with participation in the trade fair so significantly that this has a central influence on the overall costs of the trade fair stand.
By the way, if your trade show appearance is abroad, we do not even transport the frames. Due to the standardization of the individual components, we can rent them around the globe and, if necessary, only have to ship your lightweight textile graphics - if you use them several times. This allows us not only to reduce the ecological footprint of your trade show appearance, but also to massively reduce transportation costs. So economy and ecology are not a contradiction.
Hosting virtual events
Virtual events are less expensive to plan, execute and follow up than physical events. On a web-based platform, online leads can be generated cost-effectively by visitors leaving their contact details at the event when logging in, downloading content or making a contact request. If both physical and virtual events are implemented, a service provider who offers these services from a single source is a good choice. This makes handling easier for you, as there is only one service provider with whom you coordinate your trade show appearances.
A cost reduction for virtual events is especially available:
CAD files can be transferred from physical events for the virtual realm

The realization of the event requires less work
FAQs about costs in the event industry
Send request and
reduce your costs in exhibition construction