Cost reduction in live communication
Plan costs for trade fair appearances sustainably and save budget in the long term.
Expertise 1: Use of rental equipment
The central driver for reducing the costs of trade show appearances is the use of rental equipment. This effect works in several ways. For example, the use of rental components directly reduces the investment costs in individual components associated with trade shows. On the other hand, the storage of the rental components is the responsibility of the trade fair constructor, thus reducing your ongoing costs for the storage of your trade fair equipment. Unfortunately, these storage costs are often neglected during planning and in the end make up a not irrelevant part of the total costs associated with trade fairs.
Expertise 2: Use reusable graphics
Besides the ecological effects of textile graphics hese graphics also offer a good lever for reducing the overall costs of trade show appearances. In particular, the use of modular structures enables the multiple use of graphics (if necessary, also in different configurations). However, this multiple use requires on the one hand a high durability of the graphics (this includes in particular a low buckling sensitivity) and on the other hand the possibility of cleaning. The textile graphics we use in dye-sublimation printing meet exactly these requirements. On the one hand, the graphics are maximally resistant to creasing, and on the other hand, they can be cleaned normally, so that they remain as good as new even after repeated use. Although this printing method is more expensive than alternative methods during the first production, it offers a significant reduction in costs for the entire stand already during the second use.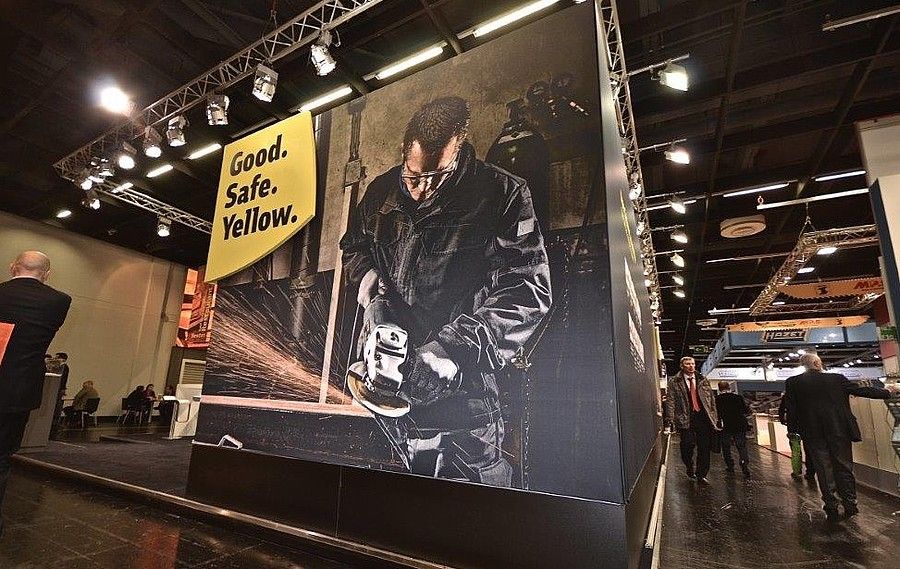 Would you like to tell us more about your targets
Send us your inquiry without obligation.
Send request
Expertise 3: Restrict logistics to lightweight trade show components

A key driver of logistics costs is the transport weight. The aluminum structures we use are extremely light and at the same time extremely stable. Although such components are more expensive to manufacture (as always in lightweight construction), this is not a disadvantage for the exhibitor due to the rental. However, the low transport weight reduces the transport costs associated with participation in the trade fair so significantly that this has a central influence on the overall costs of the trade fair stand.
By the way, if your trade show appearance is abroad, we do not even transport the frames. Due to the standardization of the individual components, we can rent them around the globe and, if necessary, only have to ship your lightweight textile graphics - if you use them several times. This allows us not only to reduce the ecological footprint of your trade show appearance, but also to massively reduce transportation costs. So economy and ecology are not a contradiction.
Expertise 4: Hosting virtual events
Virtual events are less expensive to plan, execute and follow up than physical events. On a web-based platform, online leads can be generated cost-effectively by visitors leaving their contact details at the event when logging in, downloading content or making a contact request. A cost reduction for virtual events is especially available:
CAD files can be transferred from physical events for the virtual realm

The realization of the event requires less work

The hosting of virtual events does not require any further costs and can be used again at any time