Modular exhibition stand
Aluminum frames in the modular system simply, individually and flexibly combined.
Modular exhibition stands for any stand space
Flexibility, cost efficiency and easy handling - modular exhibition stands convince with numerous advantages. The aluminum frame systems guarantee optimum stability with a very light weight. The simple plug-in system guarantees convenient and completely tool-free assembly and disassembly of the system.

The frame systems are manufactured with the help of modern production techniques in our factory in Monschau and can be flexibly combined with each other in the modular system. With the modular trade fair systems for rent, you don't have to worry about warehouse management - we'll take care of that for you.
Request modular exhibition stand
Advantages of modular exhibition stands
Two frame systems - endless possibilities
Our VLB62 and VLB124 frame systems are available in different sizes and can be flexibly combined with each other, reassembled or redesigned. Optimal if you want to customize the size and height of your exhibition stand. You can exhibit with a trade fair stand on a wide variety of stand spaces.
Request frame systems now
VLB62 Exhibition systems
The VLB62 frame system is designed for the use of LED modules. The different frame sizes allow almost infinite combination possibilities. Doors, columns or even graphic walls can be illuminated or backlit and round off the frame package as a contrast to the LED trade fair wall. The system is extremely lightweight, creates invisible transitions from LED modules to graphics and adapts to any stand concept.

Graphic quality: Blockout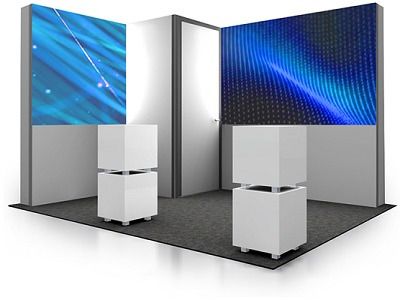 VLB124 exhibition systems
With the modular system VLB124 you have the possibility to backlight your textile graphics. For this purpose you use the profile depth of 124mm to integrate LED modules directly into the frame without tools. The modular system allows you to combine different sized graphic frames according to your ideas. This allows you to make optimum use of different stand spaces, and you also remain flexible in terms of stand height.

Graphic quality: Blockout and Backlit
Modular exhibition stand with LED video walls
The LED modules can be used to build a wide variety of wall surfaces and to display digital media, e.g. films, presentations or changing content of static image elements.

The LED modules are compatible with our VLB62 and VLB124 frame systems.

The LED panels (496x496mm) can be booked individually as needed. A special flight case is always used for transportation.
Modular trade fair stand - Perfect for mobile trade fair presence.
Unlike conventional trade fair construction, a modular trade fair stand consists of individual frame systems that are assembled on site at the trade fair. No tools are required for this, which significantly simplifies the assembly and disassembly of a modular trade fair stand. We offer the trade fair logistics and assembly of mobile trade fair stands as a full service provider with the rental of the trade fair stand.

The frame systems can be equipped with your trade fair furniture, advertising material and individual graphics in order to design your trade fair appearance according to your wishes. Accordingly, nothing is inferior to the modular trade fair stand to the conventional trade fair stand.
Rent or buy trade fair accessories in WWMcloud
With the help of our event resource management software WWMcloud, the right trade fair accessories are available to you at any time at the touch of a button. With just a few clicks, you can book your selected items and select the appropriate logistics directly. Whether shipping service or set-up and dismantling service.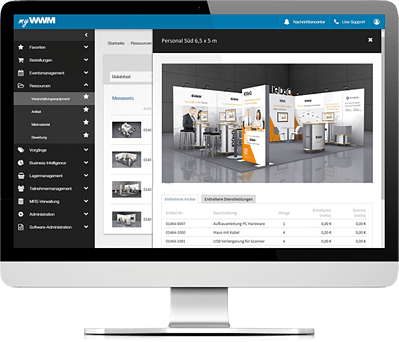 If you want to know more about a modular exhibition stand - contact us!