Modular booths for any event
Flexibility, cost efficiency and easy handling - modular exhibition stands convince with numerous advantages. With the help of the WWMcloud software, you can now simplify the planning and execution of your event even further and plan online with minimal effort.
Modular exhibition stand from the WWMcloud software
Simply select your modular booths from the WWMcloud software. Here you will find a wide range of high-quality, mobile presentation systems, suitable for every requirement. Our systems are manufactured using modern production techniques in our factory in Monschau and can be flexibly combined with each other in a modular system.
Modular exhibition stand with VLB120 exhibition systems
With the modular system VLB120 you have the possibility to backlight your textile graphics. For this purpose, you use the profile depth of 12cm to integrate LED modules directly into the frame without tools. The modular system allows you to combine different sized graphic frames according to your ideas. This allows you to make optimal use of different stand spaces, and you also remain flexible in terms of stand construction height.
Graphic quality: Basicline or Highline
Modular exhibition stand with VLB62 exhibition systems
The VLB62 frame system is designed for the use of LED modules. The different frame sizes allow almost infinite combination possibilities. Doors, columns or even illuminated graphic walls as a contrast to the LED trade fair wall complete the frame package. The system is extremely lightweight, creates invisible transitions from LED modules to graphics and adapts to any stand concept.
Graphic quality: Basicline, Highline or LED modules.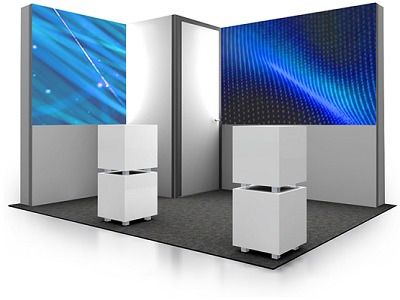 Modular exhibition stands - advantages at a glance
You would like to learn more?
Inquire about our free rentable modular trade fair booths.
Rent or buy trade fair accessories in WWMcloud
With the help of our event resource management software WWMcloud, the right trade fair accessories are available to you at any time at the touch of a button. With just a few clicks, you can book your selected items and select the appropriate logistics directly. Whether shipping service or set-up and dismantling service.