3D exhibition stand configurator
Plan, design and easily order 3D exhibition stands online in Event Studio.
Plan trade fair stand online in 3D - Event Studio
As part of the WWMStudio software, you configure your individual trade fair stand simply digitally and online in 3D with our trade fair stand configurator Event Studio. You store your trade fair material with us, assemble your trade fair stand independently on your PC or tablet and order it online.
From a large pool of modern rental systems, trade fair and rental furniture and multimedia equipment, you select your suitable trade fair stand and add your trade fair graphic directly online for viewing. You save valuable time in event management. You carry out spontaneous change requests directly on site and do without the time-consuming communication and rendering creation by external partners. You are even more flexible in your processes and your event management becomes more successful and efficient at the same time.
Easy configuration of your booth with Event Studio
All exhibition systems, furniture, floors and graphics offered for rent in the Studio Portal can be used by you individually on your exhibition stand. You choose your needed equipment from a large pool of components. Also a large equipment selection from some external furniture and multimedia partners are available in Event Studio for your exhibition stand.

Your own items created in the portal as well as the WWM rental items are available and can be freely placed on your chosen stand space. Once your trade fair stand has been completed and final adjustments have been made, the articles are transferred directly to the shopping cart and you can order your trade fair stand directly online with the appropriate logistics selection. Fast, simple and particularly efficient.
Implement 3D trade fair stand online with Event Studio
We would be happy to show you the advantages of WWMcloud Studio in a personal live demo.
Request 3D booth configurator
Individual design for your exhibition stand
You place your selected rental items on your 3D trade fair stand without design. In the graphics selection you then choose your individual graphics for the individual components and thus enable an individual and realistic planning of your trade fair stand. Whether your own graphics uploaded in the event software or sample graphics provided by us. Your exhibition stand renderings will be presented realistically and convincingly.

For all LED modules, you can upload your presentation video directly in Studio and play it on your 3D exhibition stand. This way you can experience the effect of your trade show booth online and easily make realistic decisions.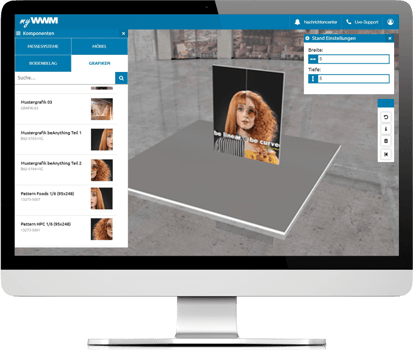 Professional presentation of trade fair stand concept
When your booth is fully configured, you can easily save it as a PDF file for your concept presentation. Simply align the 3D view of your booth to the desired position and select "Create PDF" from the menu.

Event Studio makes your concept presentation even more professional. Realistic renderings and spontaneous on-site change requests in the 3D configurator make your event management easier, faster and more cost-effective, because your designs in Studio can be saved and edited again at any time under Designs. So you are flexible even in the final phase of your planning and order your exhibition stand online.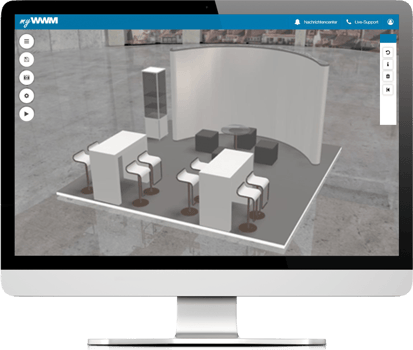 3D exhibition stand configurator request