Book launch: Event resource management with digital tools
Press release from 29.08.2018
Realizing digitization in live communication with the success factors of speed, scalability and measurability.
Due to the increasing digital communication and flooding with messages, live communication is gaining importance in the marketing mix. For years, the number of specialist presentations, seminars, congresses and events has been increasing and becoming more and more target group-specific. In order to withstand the increasing competitive pressure, also due to globalization, and to ideally occupy the brand niches, a larger number of personnel resources is usually required to optimally cover all operational tasks. In doing so, these processes could be bundled and resources saved. "Indeed, it is primarily event management tasks and processes that need to keep pace with digitization," say authors Coppeneur-Gülz and Rehm. The reference book "Event Resource Management with Digital Tools" from Springer Gabler Verlag provides practical examples and recommendations for implementing web-based event management.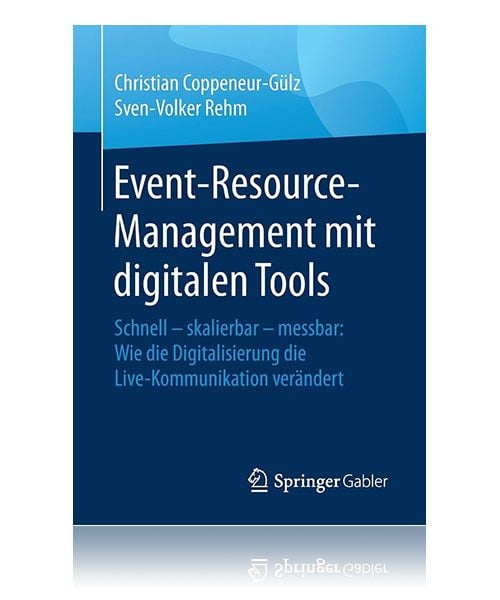 Event managers face many different challenges in organizing events. For example, all vendors, suppliers and cooperation partners have to be requested, compared and commissioned via different communication channels. Event managers are supported by various tools, each of which, however, is geared to one task. As a result, the particularly desired synergy effects in event planning fail to materialize. "It is simply possible to do more by linking more factors for more knowledge," the authors describe the digital transformation in live communication.


For Coppeneur-Gülz and Rehm, linking all tasks in an event resource management tool is the cornerstone of this literature. A conducted study proves the impact of the use of a web-based event resource management system in the event management of SMEs and international corporations. The six success factors "speed, scalability, information, agility, quality and costs" were evaluated. For example, the average planning time for live communication measures was reduced by 75% and the use of personnel resources was minimized. In addition to the exciting study results and the networking of event management tasks, Coppeneur-Gülz and Rehm are taking another step in rethinking. Smart and hybrid events, target group analytics, online pre-targeting and the importance of data are also gaining significant traction in live communications and are increasingly penetrating the modern event management process.


Digitization is an ongoing process and is primarily intended, in process terms, to increase efficiency and create transparency through data collection. In order for digitization to be lived in the company, it must simplify and accelerate work steps. This is precisely where the use of holistic event resource management, based on process-optimized workflows, comes in.
The author - Dr. Christian Coppeneur-Gülz
After studying business administration in Vallendar, Rome and Los Angeles, he earned his doctorate in business informatics and information management at the WHU (Wissenschaftliche Hochschule für Unternehmensführung). Since 2005, Dr. Christian Coppeneur-Gülz has been CEO of WWM GmbH & Co. KG, with the goal of becoming the most agile company in the industry through digital transformation.

The author - Sven-Volker Rehm
Represents the Chair of Business Information and Information Management at WHU - Otto Beisheim School of Management. His research includes information, knowledge and innovation management in business networks with a focus on the implementation of new organizational and communication concepts in companies.

The book: Event-Resource-Management mitwith digital tools
Practical examples and recommended actions for implementing web-based event management.
July 2018, 204 pages
Softcover € 37.99 (D) | € 39.06 (A) | sFr 39.50 (CH)
ISBN 978-3658223304
Also available as eBook.
www.amazon.de/Event-Resource-Management-digitalen-Tools-Digitalisierung-Live-Kommunikation/dp/3658223308