Aim of the event
GIB's goal was to completely redesign the concept of a face-to-face event that had been taking place for 13 years and to set up a digital event that would be remembered by participants and stand out from the familiar online formats. In order to realize this plan, to surprise the participants and to take them on an exciting digital journey, the concept of the GIB House was developed after several creative processes, which does not resemble an exhibition stand in the classical sense.

In accordance with GIB's ideas, the solutions were used in such a way that a bare industrial hall was transformed into a warm, cozy dwelling, which then served as the broadcasting location for the live transmission.
Thoughts behind the concept
The participants of the digital event were guided through a virtual house on the platform www.successdays.de. For this reason, the showroom was set up for the GIB as if the speakers were in this very virtual house during the live broadcasts.
Challenges at the event
The most important thing for GIB was that the apartment should look as real as possible. In addition, the speakers should have enough space. The design of the door in particular presented some challenges. It had to be considered in advance exactly on which side the door stop should be located and which graphic would be most suitable.
Eyecatcher of the event
Particularly important for GIB was the realistic replica of the apartment, which was also the eye-catcher of the event. The cozy ambience invited visitors to linger and listen in front of the screens.
With WWM, we have gained a passionate partner with whom we have been working successfully for many years. From planning to implementation, the WWM team has already stood by us in numerous projects as a creative and service-oriented partner. Especially the concept of our digital SUCCESS DAYs, which differs from a trade fair stand in the classical sense, could be realized according to our ideas thanks to the support of WWM. We are looking forward to all projects still to come - be it physical, digital or hybrid.
Go-to-Market Operations, GIB mbh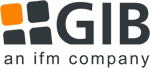 As a software manufacturer and licensed SAP Silver Partner, GIB has made it its business to improve logistical processes in SAP. With GIB you optimize your supply chain, extend the SAP standard with important planning functions and methods and thus gain a decisive advantage on your way to success. With over 29 years of experience and more than 800 satisfied customers in over 20 countries, GIB's success stands out.