Designed for event managers: WWM's new website
Press release from 21.05.2019
Simple - effective - efficient: event management as a logical process
The company WWM, which offers event software and event equipment as a combination solution for live communication at the push of a button, has relaunched its website. What's special about it? The entire online presence is geared to the everyday work of event managers and provides specialist content oriented to process chain and project management. The event management logic "Plan, execute and analyze trade show booths - with know-how" serves as a menu guide for visitors.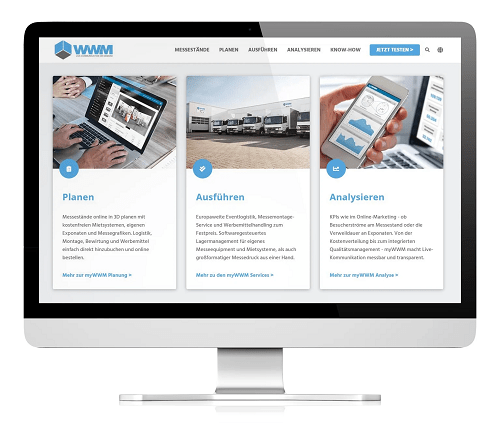 Target group event manager as process specification
"Event managers think in terms of projects and processes," says Nils Neumann, who as Head of Marketing Communications at WWM played a key role in the new site. "And because this is so, event professionals will now find an online representation that docks exactly to project and process flows in the trade fair industry," Neumann summarizes. The target group as a fixed point of each content - an alignment that makes sense so that the "content" also reaches the reader, provides benefits for event management. Neumann explains, "The benefit for event managers is greatest when they can quickly find targeted information that is practically relevant." Consequently, all segments that pertain to physical event equipment are covered under the "Exhibition Stands" tab: Event experts can find information on rental systems, digital trade show walls, rental furniture and hospitality, among other things.


Event planning with structure
Planning is the first central step to ensure that the subsequent trade show equipment is convincing. Under the online menu item of the same name, WWM summarizes content that is primarily fed from the in-house software solution "myWWM": "For every live marketing measure, myWWM offers planning reliability and convenient operation," explains Dr. Christian Coppeneur-Gülz, Managing Director of WWM. The principle is: simple - effective - efficient. This phrase stands for the core benefit along the process, as he continues: "If a cloud solution for company-wide control and management of event marketing resources is the focus, it must be possible for an event manager to see the desired result on the computer with just a few clicks." The technological equivalent is called "myWWM-Studio": a configurator that enables every event manager to create his or her customized exhibition stand online - "in 3D, of course," adds Coppeneur-Gülz. Simple is what works quickly and self-explanatorily; effective is a process when it is purposefully effective; and efficiency arises when the right things are done in the right way.
Reaching target groups with trade fair service filigree
By their very nature, events are very different. As a result, the target group of event managers is also very heterogeneous, although they all organize trade fairs, events, conferences, seminars or training courses: "The new page contains specific information for companies and agencies," says Neumann, pointing out that myWWM software users from different sub-target groups also require different content - e.g. details about congresses, recruiting events or POS presentations. Consequently, the portfolio of trade show services is arranged under the "Execute" button: Readers will find intricate details on Europe-wide trade fair assembly, trade fair logistics, trade fair printing and the - very central - trade fair warehouse management. Neumann comments, "Agile programming is core when developing a website; and when hosting an event, it's similar." The actual execution is central to success; agility is both the benchmark and the goal. Flexibility in event marketing doesn't work without "basic agile," as Coppeneur-Gülz puts it.
Using data and analytics in an advanced way
Data is the raw material of digitization! Data on material usage and trade show budgets, for example, are indispensable for any quality management. - However, the greatest potential is offered by visitor flows and their evaluation: "Making this measurement data usable in a DSGVO-compliant manner offers event managers new insights - in many different ways," says Coppeneur-Gülz. Recording visitor data with "event metrics" in real time allows statements to be made, for example, about which exhibits were more heavily frequented or how visitor numbers at an event have developed over time: "This strategically important information helps event managers to strengthen their in-house position," explains Neumann, explaining that "visitor numbers, dwell times, returning visitors and ultimately leads are now comparable with classic online marketing KPIs." - It's all about expertise, a lot of expertise, which is why WWM decided to call its new corporate blog "Know-how." A rounded conclusion to the menu: "Actively share expertise with event managers," is the credo.