WWM honored as "Hidden Champion of the Medium-Sized Businesses
Press release from 17.05.2017
In the context of the book presentation "Hidden Champions of the medium-sized business - With sympathy to excellence", the WWM GmbH & Co. KG was honored with the award "Hidden Champion of the medium-sized business" on 05.05.2017. An award for companies that develop to a special degree, inspire customers, motivate employees and are financially successful.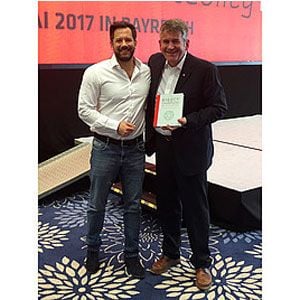 An exceptional book about sympathetic companies
The foreword by Prof. Dr. Dr. H.C. Mult. Hermann Simon, who coined the term "hidden champion" with his more than 30 book publications, shows how important small and medium-sized enterprises are for the German economy and pays particular attention to employee orientation. In the fourth volume of the series, author Dr. Dr. Cay von Fournier focuses on the success factor of sympathy, which has been neglected in specialist publications to date. The 12 Sympathy Factors Model reveals how sympathy becomes measurable and a part of corporate strategy. The companies portrayed achieve outstanding top performance in their industry and are successful and likeable at the same time. This excellence is highlighted with the featured companies from Germany as a business location and gives every entrepreneur impulses for the path to their own likeability.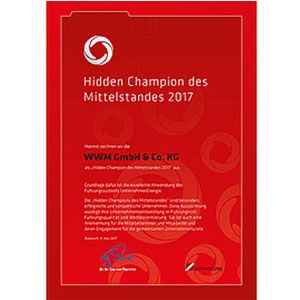 Classically lived values in the digital world
In the conclusion of Dr. Dr. Cay von Fournier, the excellent corporate and management performance of WWM GmbH & Co. KG is summarized as follows:
"WWM is a great combination of a modern, beautiful and likeable company. The innovative power has sustainably changed a business model of the industry and Dr. Christian Coppeneur-Gülz already lives the digital transformation as a pioneer. I find the combination of the new digital world with the classically lived values in this company particularly exciting and likeable.

Once again, it is the people who make the difference with their creativity, innovative strength and approaches to solutions. For example, the values of "honesty" and "helpfulness" are just as naturally combined with "dynamism" and "innovation" as the profitability of the company is with the fun in the team. WWM is an all-around likeable company for which it is difficult for me to point out great potential for improvement and which I can only recommend to continue to be so dynamic and likeable."

The book "Hidden Champions of the Mittelstand - Mit Sympathie zur Exzellenz" is available from Amazon.