WWM is the nationwide winner of the DIHK WeDoDigital Award
Press release from 07.06.2017
The Association of German Chambers of Industry and Commerce (DIHK) has launched a campaign called "WeDoDigital" to showcase digital success stories from startups and SMEs in Germany. The jury selected the winners in ten different categories and named WWM GmbH & Co. KG as the nationwide winner in the information and communications industry category.
WWM goes digital
As a pioneer of digital transformation in live communication, WWM introduced the first web-based software solution "myWWM" for planning, organizing and executing trade fairs and events. In the meantime, there are cloud-controlled service hubs throughout Europe, in which the event equipment is stored and digitally managed, and a dedicated lab for the further development of the software, which is perceived as the nucleus of the digital transformation within the company. The latest version of the software offers a business intelligence module for clear performance measurement of events and automated visitor recording at events.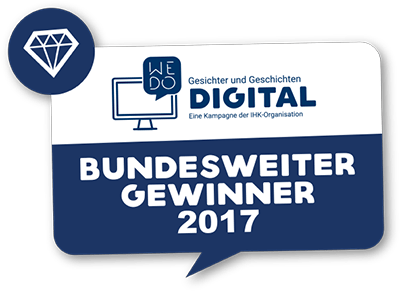 Digitalization in action
WWM uses Office 365, Windows 10, Sharepoint and Surface Pro to make digitization extremely agile and efficient internally as well. Working in the three locations Monschau, Alsdorf and Munich or even on the road offers data redundancy and a high degree of scalability. As a founding member of the Digital Hub Aachen, WWM is committed to the future viability and promotion of digitization in the economic region.

Pioneers of digitization
The digital transformation is changing value chains, offering completely new business models and putting increasing pressure on traditional business models. With the WE DO DIGITAL campaign, the DIHK is addressing this issue with tangible stories and faces from Germany as a business location in order to highlight ideas, provide inspiration and motivate. The nationwide winners of the ten categories show the innovative approaches with which they live digitization and face the change.
Talk round of the federal winners in the international environment
As part of the G20 Young Entrepreneurs Alliance Summit, on June 15 at the Haus der Deutschen Wirtschaft in Berlin, the winners will discuss the changes brought about by digitization for their industry in the panel discussion "Digital Success Stories from Germany". Dr. Christian Coppeneur-Gülz, CEO of WWM GmbH & Co. KG, will demonstrate how important agility and measurability are for digital alignment in the communications industry. Dr. Martin Wansleben, CEO of DIHK, and Carsten Lexa, President of the G20 Young Entrepreneurs Alliance, will be the moderators.